Profile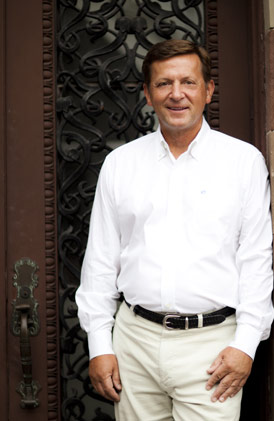 Honest. Artistic. Inspired. Distinctive. These are words that are used to not only describe Jim Kennerknecht – they are also used to describe his work.
As principal of Monarch Homes, he believes in building solutions that are not only beautiful and striking, they make peoples' lives better. Be it a luxury custom home, a high end kitchen remodel, or a lush, outdoor oasis, he listens to your ideas, explores every aspect of who you are, and assesses every facet of the land to create stunning, harmonious solutions that "live" on every level.
More than 25 years ago, Jim discovered his passion for building and design talent and has been transforming environments into lasting, poetic places ever since. More than a contractor or a builder, he is a partner, who is involved and engaged in his work at every level. His steadfast commitment to "only a select number projects at a time" is a sure-fired guarantee that every step of the homebuilding process receives not only the attention and focus of his team, but also the promise and dedication of himself.
What others are saying...
Jim's outlook on life transcends into his designs. He's honest, responsible, attentive, responsive and consistent, no empty promises. First impression continues with Jim. He's sincere and treats every project the same, big or small. He takes time for details like no other builder. That's why I've chosen him for years.
- Karen Close, Real Estate Broker and Client
Jim is the nicest person I have ever met, unassuming, never over powers people. He's exceptional at plan development. He's a perfectionist who builds off of life style and function. Jim designs what he builds, that's hard to find that.
- Arch Williams, Architectural and Interior Design
Jim's attention to detail is remarkable. Though his team shares the same commitment, he personally came to ensure every tile, nail and wire was placed exactly according to his standard. What I valued most as a first-time renovator was his honesty, integrity and open channel of communication. He was true to his word on cost and schedule and was unfailingly positive. I will never consider working with another builder.
- Michele Malvesti, Client
Integrity and 100 percent commitment is what you get with Jim. He is such a clear thinker and is always thinking of ways to make things better. He won't settle for good.
- Penny Yerks, Real Estate Broker
Equally wonderful to Jim is his team. They carried our groceries in and pulled our car out of the snow on the second day of the project. Jim took the time to build a relationship with our children, who now adore him… Who does that?
- Kate Schwarz, Client
I have known and worked with Jim Kennerknecht for many years now. In that time, I have seen him find solutions to many difficult lots that others had rejected, melding topography, site restrictions, architectural and interior design with a vision and passion. He has done this far beyond other custom builders and has created award-winning works of art. Jim speaks the language of professionals yet can translate even difficult concepts effortlessly with the homeowner. He masterly orchestrates his team and yet personally immerses himself into each phase of a project from initial concept to delivery of the final product. And he manages to do this with respect for all and good humor.
- Mark Jurgielewicz, AIA | Architect
Jim is truly gifted. He will do whatever it takes to make something work. He surrounds himself with the best team. He's the best I've ever worked with, and I've worked with a lot.
- Bob Caras, Multi-Systems
It is unusual in today's world to meet an honorable man. There are few we would trust merely on their word. We trust Jim Kennerknecht. He will do what he says he will do. Undoubtedly, he will even exceed expectations. He did it in the building of our home.
- Raoul and Mary Dee Reese, Clients
What can I say? Thank you...Congratulations...Spectacular! None do the subject justice. So...though words fail...thank you for transforming this "ugly duckling" into a sensational home. Every thoughtful detail and every sophisticated selection is just perfection. This new home, thanks to your vision and hard work, will surely be the talk of Old Town.
- Bettee-Aynn Thomas, Real Estate Broker
Jim is the only person I know who thinks things through more than I do (and that is saying something , being a structural engineer!) Every detail is considered completely. I have found him to be so easy to communicate with, and his guidance has been invaluable. And the disruption to the house has been minimal...I come home in the evening and can barely tell they've been there. No mess, dust or damage.
- Marcia Camarda, Client
I absolutely adore working with Jim Kennerknecht and Monarch Homes. His attention to detail is second to none, and the quality of his work is the best I've seen in our business. He always embraces the latest lighting technology and is never afraid to try new things.
- Catherine Schlawin, Manager Residential Lighting - Dominion Electric Supply
Bradford Design has collaborated with Monarch Homes many times, providing award-winning kitchens and bathrooms recognized both regionally and nationally. Projects like these require a sophisticated builder with the experience, talent and ingenuity to tackle complicated and difficult design installations. I consider Jim Kennerknecht to be one of the finest builders in the area, providing his clients both the quality workmanship and professionalism necessary to successfully complete the most demanding projects.
- Brad Creer, Bradford Design LLC